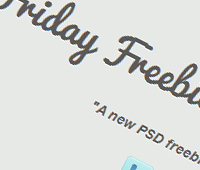 Introducing: Friday Freebies A New Network Site
Today we are pleased to introduce a new site to our network started up by our General Editor. The new site will consist of free Photoshop files released each week on Friday, if you couldn't have guessed that. It has been going strong for two weeks now and is out of final testing phase, so there are already two awesome PSD's up there for you to get your hands on.
Friday Freebies will be releasing a free PSD every Friday free of any license. You are free to use the work however you want and no attribution will be required.  The PSD files will be totally separate from any tutorials on the site, which means that between the site and Friday Freebies you will always be getting awesome PSD files for inspiration/use. The theme for Friday Freebies is the Folio Tumblr Theme by John Tidey, which is available in the DoD Bundle we posted about earlier this week. Check back each week or follow us on Twitter to be notified what the next PSD release is.
Be Part Of The Community!
Become part of the hv-designs community.
Subscribe Via RSS or Follow Us On Twitter.
Leave a Reply