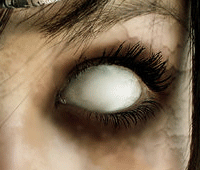 May 18th, 2009 in Articles by Richard Carpenter
Freaky Photoshop
Good evening all today were going to explore the sick world of photo manipulation. This article contains some of the most realistic horror photo manipulations. *WARNING* View at your own risk.
Eye Spy
Friendly Fire
Half The Zombie I Used To Be
Miss Deadlock
My Fears Have Become Phobias
Perfect Death By SentencedXIII
Ripped Away
Shinybinary's Horror
Why So Freaking Serious?
Witch
Zombie Manip
Bacarath
Tutorials & Resources
Devils Eye
Creating A Zombie
Transform Into An Alien
Bloody Saw Blade
Crack & Peel
Wounds
Bloody Method
Killer Portraits
Dark Book
Turning Into An Alien
Zombie Tutorial
Be Part Of The Community!
Become part of the hv-designs community.
Subscribe Via RSS or Follow Us On Twitter.
Leave a Reply