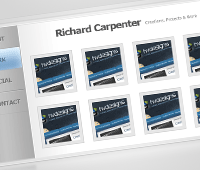 February 5th, 2010 in Freebies by Richard Carpenter
Personal vCard – FREE PSD
Download the FREE PSD file of the Personal vCard Layout Enjoy.
Personal vCard
The Tutorial
You can view the full tutorial here, if you haven't already seen it.
Learn To Code This Layout
You can learn how to code this layout by following this tutorial HERE.
License and Attribution
This PSD is licensed under the Creative Commons license and can be used for personal purposes ONLY. Attribution is required and is always appreciated.
Be Part Of The Community!
Become part of the hv-designs community.
Subscribe Via RSS or Follow Us On Twitter.
Leave a Reply